Elena Schilke studied wind orchestra conducting and wind instruments with focus on the flute  at the Miass State College of Arts and Culture. In 2007 she completed her studies in computer science and music with focus on piano at the University of Paderborn. After that she worked for a software company as a development engineer for Graphical User Interface. From 2015 she worked as a research assistant in the Freischütz Digital project, from Januar 2016 to February 2021 in the Detmolder Hoftheater– and from January 2018 to January 2021 in the Pasticcio-projects. Since March 2021 she is working for the Edition phonografischer Musik project. From July 2021 she begin to work in the projects "Hochschulübergreifende Entwicklung und Verbreitung spezifischer digitaler Werkzeuge für die Hochschullehre" and Open Resources Campus NRW.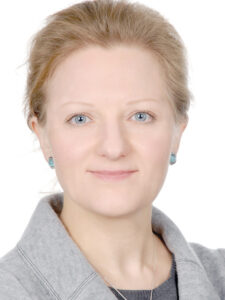 The portal ORCA.nrw (Open Resources Campus of the State of North Rhine-Westphalia) is a cross-university online platform that primarily provides offers and services for students and lecturers. 
For students:
Students can use free learning resources.
There are different tests to check your own knowledge.
In the media library area students can use different audio and video resources.
Students can take advantage of the advisory services or can find out about offers for their studies. The central contact location points are placed on the map.
For lecturers:
They can find teaching and learning resources (under Creative Commons licenses) that you can use for your teaching and, in many cases, change.
They will receive advice and further training offers such as the Right Information Center, e-learning and qualification offers.
They can find out about funding calls, meetings and events in the area of e-learning at universities in North Rhine-Westphalia.
They can get advice on all aspects of OER (Open Educational Resources), Creative Commons licenses and ORCA.nrw from the ORCA.nrw network.
The lecturers who belong to a NRW university can upload their ressources.
The portal has been online since September and is constantly being expanded and improved: orca.nrw. If you have any questions / concerns about portal, write to helene.schilke@hfm-detmold.de. Current information about the portal and DH.NRW events is sent via newsletter: https://www.listserv.dfn.de/sympa/info/dh-orca.
Links to ORCA.nrw:
02./06.03.2020, Paderborn
DHd2020: "Spielräume. Digital Humanities zwischen Modellierung und Interpretation"
Irmlind Capelle, Kristina Richts, Elena Schilke: Theatre-Tool: Erschließung, Verknüpfung und Web-Präsentation von Theater- und Musikbeständen mit unterschiedlichen Quellentypen (https://zenodo.org/record/4621808#.YPU1QW5CTNw)
05.09.2019, Paderborn, Edirom Summer School
Elena Schilke: Webarchiv Software: Theatre Tool und Metadata Editor für MEI und TEI.
19.09.2018, Paderborn, Edirom Summer School
Irmlind Capelle, Kristina Richts, Elena Schilke: Quellenerschließung mit MEI – Erfahrungen aus dem Hoftheaterprojekt
19.09.2017, Paderborn, Edirom Summer School
Elena Schilke, Irmlind Capelle, Kristina Richts: Detmolder Hoftheater Projekt. Entwicklung eines MEI- und TEI-basierten Modells kontextueller Tiefenerschließung von Musikalienbeständen am Beispiel des Detmolder Hoftheaters im 19. Jahrhundert (1825–1875): Theatre Tool, siehe: Poster (PDF)
21.06.2017, Riga, IAML-Konferenz
Irmlind Capelle und Elena Schilke: Hoftheater Detmold – Bestandserschließung und -präsentation im 21. Jahrhundert
Vortragsfolien (PDF)
16.09.2016, Paderborn, Edirom Summer School
Irmlind Capelle, Kristina Richts, Elena Schilke: Detmolder Hoftheater Projekt. Entwicklung eines MEI- und TEI-basierten Modells kontextueller Tiefenerschließung von Musikalienbeständen am Beispiel des Detmolder Hoftheaters im 19. Jahrhundert (1825–1875),
siehe: Poster (PDF)